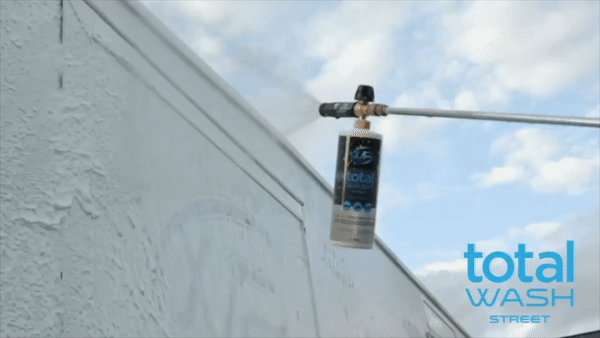 Total Wash Street Cannon Kit
Total wash Street Offers a fast and convenient way to clean your toys.
Covers large surface areas in seconds
Quickly removes dirt, dust, and other road contaminants while leaving a wax like finish
Works into a thick lather that is safe on all surfaces and finishes
One Cartridge makes over 5 Gallons of highly effective wash
1. Simply thread Total Wash Cannon Cartridge onto Total Wash Cannon

2. Set top dial dilution rate to full foam

3. Spray generously on surface

4. Gently work the foam into the vehicles surface using a clean microfibre cloth or wash mitt. This ensures an effective bond of Hydracoat to your vehicles surface

5. Rinse and dry thoroughly
Q: How do I dilute Total Wash Street using the Total Wash Cannon?
A: The Total Wash Cannon has a dilution dial on the top of it that controls the ratio of Water to Total Wash Solution. Turning this dial clockwise will increase the concentration of Total Wash Solution. For extremely dirty vehicles we recommend setting the cannon to full foam (Turning clockwise all the way). For light dust, road grime, or fine detailing we recommend dialling it back which will decrease the concentration of Total Wash but still clean effectively and give you a nice finish.

Q: What can I clean with Total Wash Street?
A: Total Wash Street is a highly concentrated cleaner that has been designed to work great on all road vehicles. That being said it can be used to clean more surfaces as well. Common uses of Total Wash Street are vinyl and aluminum siding, trailers, and windows!

Q: Is Total Wash Street really a touchless system?
A: In short no. Total Wash street is designed to be gentle on a vehicles surface while still cleaning effectively. It also includes Hydracoat technology which repels water and leaves a wax like finish. To accomplish this, light agitation with a wash mitt or microfibre cloth is required.

Q: Will Total Wash Street corrode my vehicle?
A: Total Wash Street is a highly concentrated formula that is meant to be used at a 20:1 (20 parts water: 1 Part Total Wash) ratio or higher. It is perfectly safe and very gentle on all vehicle components when diluted to this ratio or when used through the Total Wash Cannon. We do not recommend using Total Wash straight or letting Total Wash dry on your vehicle as the water will evaporate and leave a very high concentrate on the surface. For best results rinse Total Wash off soon after applying and if possible wash in the shade.
Kit includes 1 Total Wash Cannon and 2 Total Wash Street Cartridges
Total Wash Cannon Cartridges come in 1 qt bottles and each Cartridge makes over 5 gallons of wash

Bubblegum Fragrance
Watch Total Wash In Action!
Directions
Step 1
Simply thread Total Wash Cannon Cartridge onto Total Wash Cannon
Step 2
Set top dial dilution rate to full foam and spray generously on surface
Step 3
Gently work the foam into the vehicles surface using a clean microfibre cloth or wash mitt. This ensures an effective bond of Hydra Coat to your vehicles surface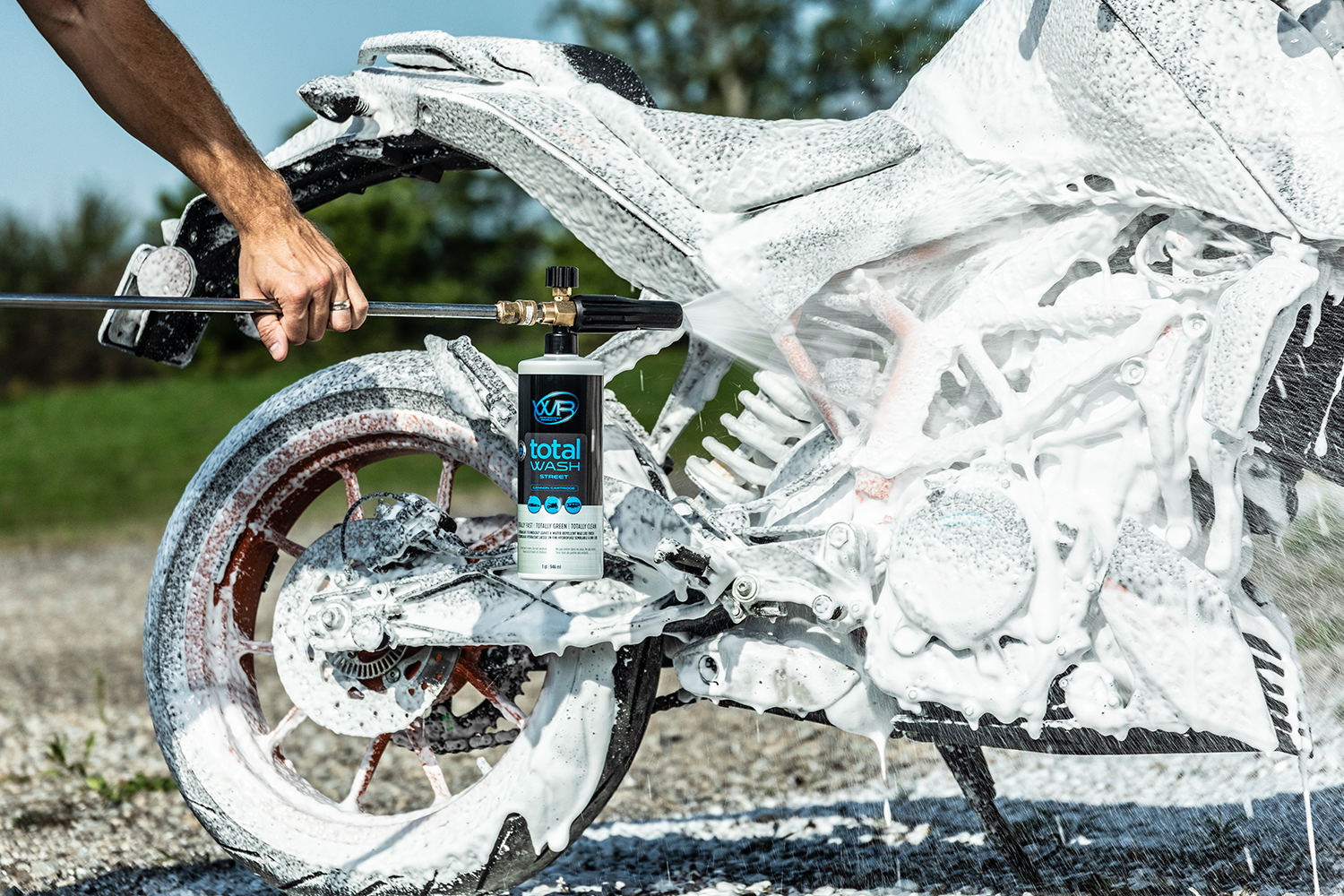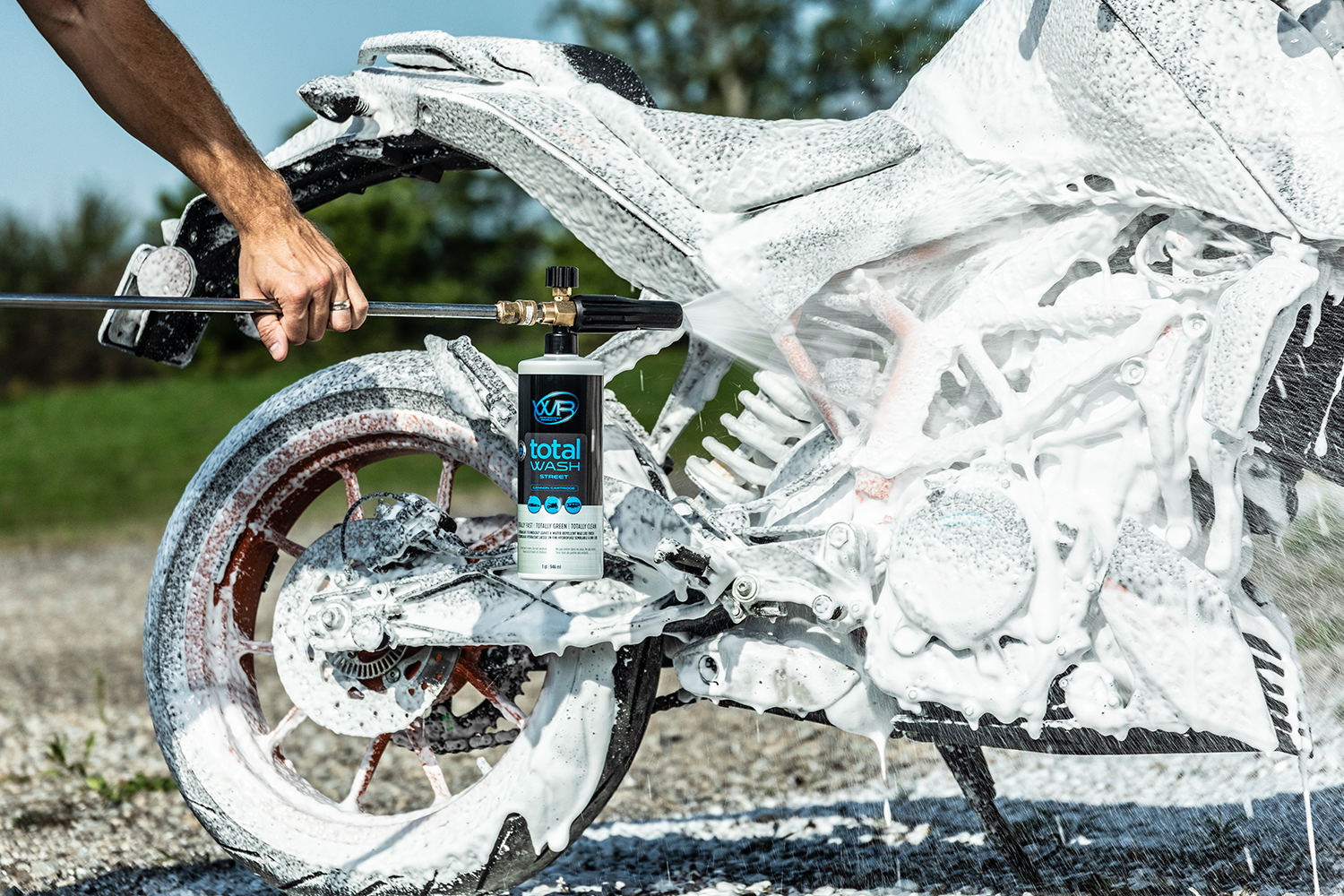 Dilution Dial
This dial controls the dilution rate of the Total Wash. 20:1 (Water:Wash) is the max setting and it can be dialed back until it is pure water for lighter cleaning.
Spray Pattern
Turning the barrel changes the spray pattern from a wide fan to a direct blast. The wide fan is great for covering large surfaces evenly while the direct blast helps to hit hard to reach places.
Thick Foam
The cannon produces a thick foam that pulls off heavy soils. The foam also gives you more working time before the wash dries so that the soap can clean for a longer period of time,
Thread on a cartridge
The Total Wash Cannon is compatible with All Total Wash Cartridges. You simple thread the Cartridge onto the base of the cannon and blast away!
10/10
Water Repellency!
Total Wash Street has Hydracoat technology which leaves a wax like finish. This beads and sheets off water to speed up the drying process and inhibits water spotting for the perfect finish. Total Wash Street was designed to be gentle on your machines surface while being tough on road grime.
This product has no reviews yet.